Get real-time alerts or schedule summary notifications
It's all well and good setting up a stream for hot prospects, but you also want to know when they're back on your site, right? Triggers enable you to get an email in real-time to let you know that they're back on right now, so you can reach out at a relevant time.
If you'd like a summary at the end of the day, no problem, the Summary Notifications send you a snapshot of the day's activity ready for tomorrow morning's calls.
Email Notifications let salespeople know when to react to hot prospects
The email notification sends a snapshot of the visitor's CANDDi profile.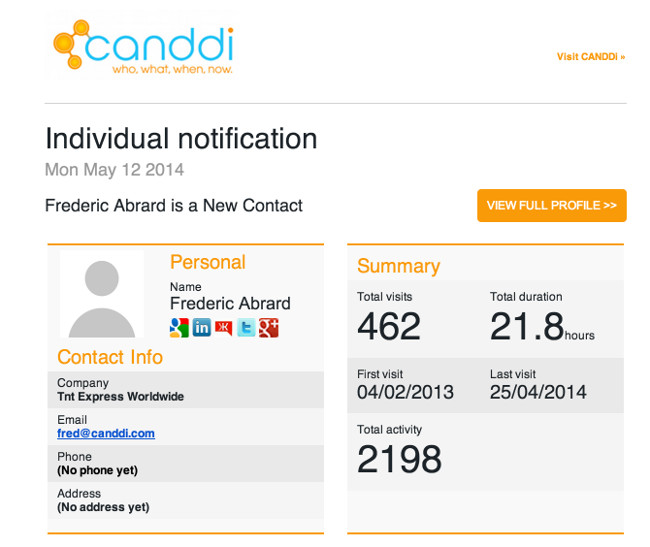 Salespeople love these triggers.
When a prospect completes an enquiry form, the trigger email will show you everything that they looked at prior to them filling out the form. If there is a long sales-cycle and the Salesperson wants to nurture that lead, they'll be able to drop them a quick email. Or a prospect who ended up going with a competitor is back on, maybe they're reconsidering … knowing that they're back on could result in a quick call to open the door again.
For more information on how to add triggers to streams see our faq page.
Nightly Summaries
If you don't want, or need, this information in real-time you can schedule a nightly reminder email instead. Every night, CANDDi will send you summary information on Companies and Identified visitors who have been on your site that day. If you like, you can also tell CANDDi to include a nightly summary for additional streams which are important to you too. The Frequently Asked Questions for this are here.