Get
more sales

from your website visitors.
CANDDi reveals who they are,
and what they're interested in.
Identify your website visitors
Identify leads before your competition with Visitor-Level Tracking
Prioritize the leads that matter
Concentrate on the hottest leads thanks to automatic filters and lead scoring
Optimize your
marketing ROI
Track the success of your marketing channels so you can focus on what works
Make timely
sales decisions
Take action when it matters most with our real-time data and alerts
"Anyone considering CANDDI, should take this trial up. I can strongly recommend it and their very helpful team to give you greater insight into your web traffic and make more conversions. It works!"
View on LinkedIn
Identify individual website visitors, not just companies
Don't just stop at identifying the companies who are interested. Using Visitor-Level Tracking, CANDDi creates an individual profile for every single visitor who hits your website.
Try it for free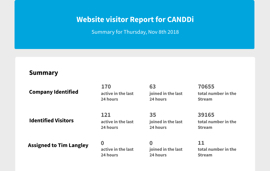 Focus on the The Hottest Prospects
Stop wasting time chasing leads who aren't interested. With CANDDi, you can automatically score prospects and filter them based on quality.
Try it for free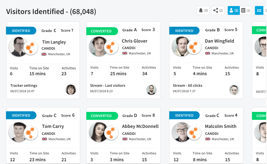 Integrate With the Tools You Already Use
CANDDi integrates seamlessly with every major CRM and Email platform. That means you get rich new information about your leads directly inside the tools you're already comfortable using.
Try it for free