What kind of CANDDi user are you?
We know our users like the back of our hands. So much so, we've gone and written a blog post about them!
There's no specific shape, size, rhyme or reason when it comes to the types of companies that use CANDDi, our website tracking capabilities can span pretty much every industry.
But within each organisation there's a set of characters. Our beloved CANDDi users.
All kinds of organisations use our platform for all kinds of reasons.
Whether you're a CANDDi Capture Convert who loves the insight you get from the CANDDi Capture tool or an Email Evangelist who makes use of every last drop of data, we've got a use case for you.
Below, we've highlighted the most common types of users we encounter – can you spot which one you are?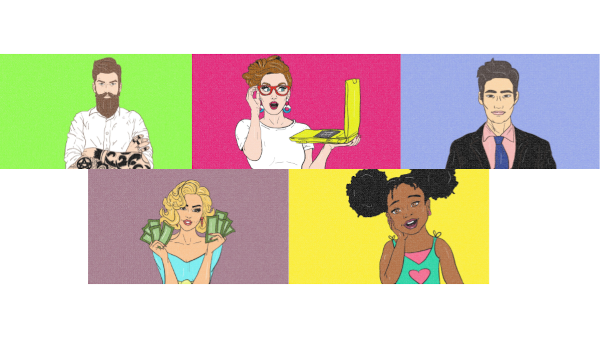 The Sales Expert
Our sales experts have usually been around the block. In a good way. They're only interested in results, so they've ended up trying and testing each piece of lead generation software along the way.
They're the ultimate power-user. They make use of all our tools and functionality. They've seamlessly integrated CANDDi with their CRM and email systems and they devote the resources to drive campaigns that CANDDi can track.
But what happens when they've got the fear that there's something out there that can get even BETTER results?
Well that's where CANDDi comes in.
We eliminate the guesswork by drilling down to the individual details of their website visitors.
This way, the sales expert can focus on building long-term relationships by avoiding the immediate hard sell, because they already know the activity history and position of the prospect.
CANDDi can then offer a lead scoring and grading value, allowing the sales expert to understand what an ideal customer looks like.
Since we also use first-party cookies, we'll remember all future activities too. This will ensure the sales expert will know a prospect's behaviour trends, and can spot when it's time to make a call.
Content Queens
Content Queens, Kings or Jesters, they're usually the marketing people rather than sales guys. This often means they want to use CANDDi to get a better understanding of which content is engaging, and which isn't.
Why bother? Well imagine not being able to prove your success because of fuzzy marketing attribution. You'll just end up being pestered by the sales team and a perceived intangibility of your impact on the business. Ouch.
However, Content Queens rejoice!
CANDDi can show exactly which content is being viewed or downloaded by a prospect, enabling a more refined campaign for the future.
CANDDi can therefore prove ROI with our accurate lead attribution (even if it's been months after the first touch) the Content Queen needn't worry.
CANDDi can also allow them to capture leads higher up in the sales funnel by providing automatic lead qualification and real-time alerts for when that hot prospect makes a return visit.
This allows for an efficient pass over across the whole company, whilst also providing clear data about marketing success.
New Starter
The babies of CANDDi. We all have to start somewhere!
And thanks to our enquiry forms, they're getting more engagement than ever. This often leads to a bit of feature neglect.
I mean, if their CANDDi Capture is increasing enquiries by 180%, you can understand why they haven't got round to exploring the full capabilities of the software!
But whether it's lead attribution, email tracking or website analytics they're looking for, CANDDi has it covered.
Saying that, not all first times run smoothly.
A new starter with a cold calling background can often fall into the 'keen bean' trap. As soon as they see a visitor is identified within the CANDDi Dashboard, they'll pick up the phone and, lo and behold, scare off their prospects.
Don't be weird. These people don't even know you yet! They need nurturing first.
On the other hand, a new starter can also look like a CANDDi wallflower.
They'll see a visitor make return visits time and time again, even stay on the site for 30 minutes without anybody even saying "hello" or "welcome back."
We're not saying they should drive round to their office with an order form either. Just let them know they would like to understand what their needs are.
Marketing Maverick
Some of our savviest users. They've often set up multiple Streams to segment their audience and track the success of different marketing sources.
They've also embraced our CRM integration so everything is joined up nicely.
Why? Well they're single-handedly responsible for the entire company's sales targets. They don't want to simply close more sales, but provide higher quality leads for their sales team.
Because let's be honest, since the dawn of business, a lack of communication has long-served as an obstacle between sales and marketing teams.
Poor communication only means the hard work of the marketing team goes to waste, and the sales team's job becomes harder. Our Marketing Mavericks don't have time for that.
That's why CANDDi automatically captures, scores, and assigns leads from their website to create a fully aligned sales and marketing effort.
If their teams are equipped with the right tools, they'll smash sales targets and look great. You're welcome, Marketing Mavericks.
And don't even talk to them about email marketing! They're true email marketers, their bread and butter. They'll never forget to add CANDDi code into their emails (CANDDi is a great tool for tracking emails after all).
Tech Junkies
Ah finally, a user after our own techy hearts. They get it all; from IP lookup to cookies to GDPR, they know the score.
Although their enthusiasm can sometimes be a bit scary, they've built their entire sales and marketing model around CANDDi. Well why wouldn't you when you can measure the actual business won as a result?
Since Tech Junkies understand the importance of automation and optimization, it's really important they choose the best possible software.
I mean how embarrassing if they techy guy can't pick a system that improves everyone's work flow…
But with great power comes great responsibility, and they're often left feeling a little unimpressed with the offerings of other tracking tools.
CANDDi is perfect for our Tech Junkies as it provides more data than any other tools they've considered before.
And the great thing is, these guys really appreciate the potential uses for this data. We love you guys.
The truth is, we love all our users equally (most of the time) - joking! So if you're one of our users who doesn't quite fit these moulds, let us know at help@canddi.com! We'd love to hear from you.
Or if you're not yet a user of ours but you want to be, book a call with the team or register for our free trial.