A Beginner's Guide to Website Analytics
If you're looking to implement a website analytics tool, you might find that getting to grips with the platform, jargon and data can be a minefield!

However, once you've battled through the technical stuff, the rewards will definitely be worth it.

Long gone are the days of second-guessing if your marketing efforts are paying off and wasting time and money with no clear ROI. Your website analytics tool will help you deliver a positive user experience that matches each individual visitors' browsing intent, leading to more effective, qualified sales.

What more could you need?

If you're not sure how to make all of this happen for your website, check out our handy beginners guide below. We'll walk you through the most important aspects of website analytics, and how to make the most of them.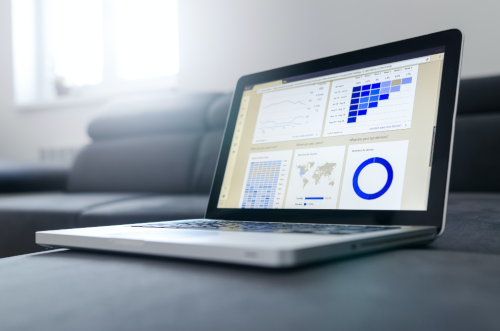 Why would I need website analytics?
When making business decisions, do you take a wild stab in the dark or compare and analyse data sets to help you make a justified decision?
I'm thinking it's most likely the latter. So why would your marketing decisions be any different?
If we're being honest, a lot of marketing is based on trial and error. But how are you actually monitoring this? How do you know what's working and what's not? That's where website analytics comes in.
You can see exactly what type of marketing channels, campaigns and content has been successful, or sometimes more importantly, completely crashed and burned.
This valuable insight will allow you to identify the pages that need updating, or simply show you to create more of the content that your visitors are engaging with.
In doing so, website analytics is also helping you to deliver a positive user experience across your website.
These analytics identify your website visitors' demographic traits, including where they're from, the devices they use, and their preferred browser. You can then use this information to produce a seamless visitor experience.
There's also the technical elements you need to keep an eye on such as page speed, optimised content and website accessibility. All of these factors lead into your SEO efforts which ultimately makes your site more attractive to search engines and their algorithms.
So if that sounds good to you, let's get started.
Where can I find website analytics tools?
Hello, you're looking at one! Not only does CANDDi show you exactly who's been on your website, how they got there, what they looked at and how long for, but we'll also track your website visitors so whenever they make a return visit, you'll know about it!
Alternatively, Google Analytics is a great tool for monitoring your website tracking and success, and the best news is it's free!
There's a load of great tools out there, have a look at this top five website analytics platforms.
Understanding your website's metrics
So this is the good stuff! Before you get stuck into your website analytics tool, there are a couple of terms you need to get to grips with.
Traffic – essentially, this is the number of your website visitors. You want to see this number increase consistently over time.
Sessions – this can also be referred to as "visits." This will show you how visitors are actively engaging with your site and how long for.
Activities – slightly different to sessions, as this tracks specific interactions your visitors perform on your site rather than just visits.
Page Views – this is also different than sessions. This metric counts repeated views on one of your pages whilst sessions tracks the total time spent on your website.
Pages per Visit – the average number of pages visited per session.
Bounce Rate – this is what happens when your visitors only view one page before leaving your website. Most website owners target a bounce rate of between 40 and 55%.
How to make the most out of your website analytics
Ideally, analyzing website analytics should be a life-long exercise. As you become more familiar with your analytics tool, you can take a more sophisticated approach to handle and analyze data. Here are some long-term strategies to ensure that you are getting the most out of your website analytics tool.
Monitor your visitors journey
This is a simple one. All you have to do is look at the flow of your website visitors across your site and see for any trends, peaks and drop off points.
If you're using something like Google Analytics, you'll find behaviour flow charts useful here, as you can analyse what pages are most popular, what your visitors are clicking, and what pages they turn to next.
Monitoring how your website visitors navigate your site gives you instant insights on how your sales funnel works. With this information, you can tweak your website as necessary to improve conversion.
Block out the noise
When you first get started, your web analytics tool will capture all sorts of traffic, the good, the bad and the ugly.
This will include spam, internal traffic from employees or duplicate data, which will give you a skewed analysis of what's happening on your site.
With tools like CANDDi, you can use our 'Stream' feature to filter your data to what you want to see. Whether that's to keep an eye on a specific marketing campaign, track visitors from a certain industry or see traffic from a particular country, it can all be streamlined into one convenient dashboard.
You can then compare each Stream with each other, getting valuable analysis on how different demographics behave in relation to others. This will allow you to tweak your marketing and content accordingly.
Integrate with external marketing activity
Whilst Google most analytics tools will reveal where your website traffic is coming from, this can often be too vague a dataset to be helpful.
For example, if you notice that you're getting a spike in traffic from LinkedIn, you won't be able to pin down exactly what ad or post is generating this boost in engagement. Pretty annoying.
Luckily for you, tools like CANDDi can integrate directly with your existing marketing platforms to add tracked links to all of your campaigns. Whether it's one-to-one, bulk email or prospecting on LinkedIn, we can drive your prospects back to your website where they'll be picked up by our CANDDi cookies.
You'll then be able to monitor their journey across your site, as well as knowing exactly what campaign they came from. This is extremely beneficial for your ROI.
Ultimately, website analytics tools are a recipe for marketing success. Without even being a mathematical whizz, you can have all this information and a lot more in the palm of your hands, or should we say dashboard?
If you're looking to start analysing your website traffic, why not get in touch with us today and we'll see how we can help you. Reach out to us at help@canddi.com