Integrating CANDDi into your marketing plan
A whopping 98% of your website visitors will bounce straight off your site without ever enquiring.

It sounds like quite an alarming statistic, and it can certainly be soul-destroying for your marketing team when they're working hard to drive traffic to your website in the first place.

But what if you could understand your website traffic and see who's visiting, when and why?

Maximising the value you get from your website visitors will instantly make your marketing efforts more effective. How? Well because they know where they should be focusing their time.

That's where website visitor tracking comes in. Tools like CANDDi will shine a light on the 98% of your website visitors that are still leaving you in the dark. All of a sudden you're converting opportunities you never knew you had!

If you'd like to see how you can integrate CANDDi into your marketing plan, follow our steps below.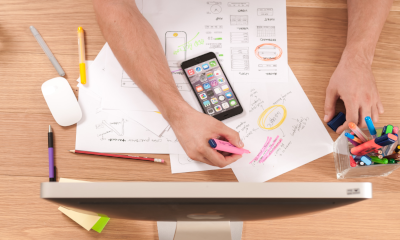 1. Create accurate customer profiles
If you've ever done any research into kicking off a marketing plan, you'll find customer profiles/ personas make it to the top of the list.
This is because they define what it is you're looking for. If you understand your ideal customer, you can target them better.
You should have multiple personas for each type of customer, making sure they tick off demographics such as age, job title, interests and location, as well as their biggest challenges, pain points and needs.
There's no better way to do this than with website visitor tracking. With CANDDi's real-time analytics, you can strengthen your customer personas as they'll be data-driven, not just based on assumptions.
Using CANDDi's visitor profiles, you can see the characteristics of each company visiting your website. You'll know how they landed there to start with, whether it's a specific marketing campaign, ad or good old SEO, with full visibility over and how they move through the buyer journey to conversion.
You can also take this a step further by integrating CANDDi with your digital marketing. This is what allows us to drill down into the individuals on your site.
Not only will you know what companies are showing interest in your business, but individual employees too. What more could you need?
After creating a couple of profiles, you might notice a number of patterns (e.g. campaign success, content consumption, company size, etc.). You can build them into your marketing strategy to better understand your leads and what they take to convert.
2. Map the buyer's journey
Once you know what type of customer you should be targeting, you need to make sure they convert.
However, this can be easier said than done. After all, when is the defining moment a customer decides to make a purchasing decision?
Without website tracking tools, you'll never know.
That's why CANDDi is built to enable you to monitor your visitor's browsing data to understand how they move around your site.
This includes:
How many pages do customers look at before they make an enquiry/ purchase?
Which pages do they spend the most time on?
Which marketing channels are engaging leads at each stage of the buyer journey?
What actions are being made?
When you know this information, you can tailor your content for each stage of the buyer process. This is proven to drive a 72% increase in conversion.
First thing's first, you need to figure out what your digital touchpoints are. These can range from anything from your outbound email marketing, to your social media feeds.
Although the key here is to get a grasp of what stage of the buying journey prospects will be in when they hit certain touchpoints.
For example, cold email campaigns will require much more educational content than nurturing email campaigns which can push much harder for a conversion.
But don't worry if you're not quite sure how to recognise this, CANDDi will automatically score and grade your leads for you! In doing so, you can see where's best to focus your marketing efforts based on website activity and the intrinsic quality of the lead.
Once you've got an understanding of this, you can create the relevant content for each stage that will tap into your customers needs.
3. Work alongside your sales team
Now you've got the basics in place, it's time to start putting together a marketing plan!
However, many businesses keep falling over the same stumbling block… the disconnect between the sales team and marketing team.
This gap often leads to poor communication, and poor communication means the hard work of the marketing team goes to waste, making the sales team's job a lot harder.
It might sound like a lost cause at this point, but CANDDi can help. We automatically capture, score, and assign leads directly from your website to create a fully aligned sales and marketing effort.
As we integrate with your existing digital marketing platforms, your team will be able to monitor who's clicking through from each campaign, gathering data on what type of lead they are before they even reach your sales funnel.
But how? Using our email plugin, your marketing team can see exactly who's interacting with their emails, whether it's 1-1 or part of a bulk marketing campaign. If Carlsberg did read receipts, they'd look like CANDDi's.
This sounds great of course, but where does all of this data end up? Our CANDDi dashboard integrates seamlessly with your existing CRM.
This ensures that CANDDi's rich, actionable data is driven straight to a software your team is already comfortable in using, reducing any downtime and risk of lost leads.
4. Deliver stronger ABM campaigns
Once everyone is onboard with your strategy, you can start to prepare stronger campaigns. Marketing campaigns come in all shapes and sizes, but in an ideal world, all digital marketing would be account-based.
Account-based marketing is a strategic marketing approach that tailors marketing material to each target customer based on all of their individual needs.
But let's be honest. It can be time consuming and budget draining trying to create the relevant content, but website visitor tracking with CANDDi can make this a lot simpler, and more worth your while.
As previously mentioned, you can start by using CANDDi to analyze the companies visiting your website, including what they look at, how long for, and what channels landed them there. This will help build profiles of your ideal accounts.
With this data, you can decide which methods of communication are most likely to be effective when reaching out to them.
For example, if your dream customer arrives through a LinkedIn post, send a direct message through LinkedIn to your contact.
Sounds easy enough, right? But what happens once you've sent that message? They disappear into the marketing black hole never to be seen again.
Luckily, we've developed a new LinkedIn Propect Tracker that allows you to send tracked LinkedIn messages to your prospects and connections. It works in the same way as our email plugin, in the sense that you simply create tracked links through CANDDi that you can copy and paste into your message.
These links will replace the usual URLs you'd be driving your prospects to anyway, with the added bonus of you'll know exactly when they clicked through, and any actions they take thereafter.
So now you've got your prospects tracking nicely in CANDDi, it can get a little hectic if you've got a plethora of data flying around. Using CANDDi streams, you can filter through the noise to get a better understanding of your data.
You can create a specific stream for each target customer, account, industry, geography and pretty much anything else you can think of.
Once you've established the relevant parameters, CANDDi will recognise these for future visitors, adding them into the correct stream as necessary.
To make sure you're not missing out, you can even set-up real-time alerts for whenever someone lands on your site and engages with certain content. That way, you're able to strike while the iron's hot and you're still fresh in their mind!
5. Better PPC
When your marketing campaign is up and running, it's always nice to opt for an omnichannel approach. This can be achieved through paid ads and remarketing.
If you're using pay-per-click ads as a major marketing channel, you'll know that it's a channel that requires a good deal of attention and optimization to yield results.
Although CANDDi isn't guaranteed to identify visitors from your PPC campaigns (it isn't one of our individual identification methods) we can definitely drive up your identification rates!
One of the ways we can do this is through our CANDDi Capture. These are our customizable pop up forms that allow you to create pop-ups that only show for PPC click throughs.
Further still, you can change the content of that pop-up based on the visitor's location, industry, company name, and more.
Our data shows that due to the super-personalized nature of CANDDi Capture forms convert up to 400% more visitors than standard forms you may have on your landing pages. That's a lot of extra leads!
These extra leads won't be full of bots and fake clicks either. CANDDi has been fighting the good fight against bots for over 12 years now, and we've gotten pretty good at it!
Our system will automatically flag visitors as bots so you can block their IP address in the ad service you're using to run campaigns. That means less money spent on fakes clicks, and more money spent on driving real prospects to your website.
CANDDi can give your remarketing a boost too. If you're running PPC campaigns to people who have already been on your website, CANDDi is the perfect tool to connect the dots between their multiple visits.
If they've been on your website before, there's a good chance they're already an identified visitor in CANDDi. That means when they return, CANDDi will recognize them and add all new activity to their already-existing profiles.
Summary
Ultimately, website visitor tracking can reimagine how you understand and deliver your current marketing strategy.
Not only can CANDDi help you gain a better insight into what you're creating as a marketing team, it can also help you get ahead of your prospects when it comes to your sales team.
We hope you can use our guide above to redefine your current marketing strategies, provide your sales team with warm, pre-qualified leads, and deploy more accurate marketing campaigns as a result!