6 Tricks to Optimise Your Website for Lead Generation
Your website is one of your biggest sales tools, so why not make the most of it?

But that doesn't mean it's as easy as a click of a magic lead generation button (although with CANDDi, it can be).

Instead, you need to have a content strategy for your site. Before you get started, make sure you've got a basic understanding of the lead generation process. We've got a handy back-to-basics if you need it.

So, what comes into play when turning your website visitors into a lead?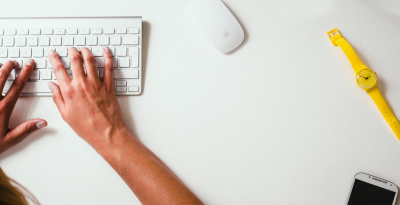 1. Use enquiry forms
First things first, it's a good idea to have a look into which of your webpages are natural lead generators.
You can use free tools like Google Analytics to show you which pages are generating the most traffic. And more importantly, you can also see where they're dropping off.
After doing so you've noticed your customer journeys fizzle out once they reach a particular page, try the good old pop-up enquiry form.
Pop-up forms are a sure fire way of directing more leads to your inbox, especially if you start advertising a useful freebie.
At the end of the day, if someone is leaving your site without making a purchase, it's likely that the trust required to hand over their cash isn't there yet.
This might be because they haven't found what they're looking for, pricing or even pre-purchase nerves. By offering a remedy in the form of a free guide, newsletter or template, you're proving your value without obligation.
Sometimes that all your leads need! And the added bonus is you've now got their opt-in data that can allow you to reach out and start building that relationship.
2. Create smarter content
You could be the best blog writer in the world, but if your content isn't getting the views, your efforts are wasted.
Why is it important that your content has views? Well, your website content is usually the first port of call for your prospects.
The first thing we all do when we're looking for something, whether it's a new bag, a new boiler or some B2B software, is ask Google.
So obviously, you want your content high up in those Google rankings for query searches being made by your leads.
In order for this to happen, you need to ensure your on-site content is primed for search engines. In other words, it's time to look into SEO.
A good place to start is with your keywords. Remember that keywords are competitive, a lot of your competitors will already be ranking for ones you're looking to target.
A simple way to get around this is by using long-tail keywords that can help you rank a bit more realistically.
Sprinkle these keywords throughout your content to prove to your visitors your website is relevant. When the content fits what your visitors are looking for, they're more likely to make a move.
3. Have specific landing pages
You spend too much time, effort and money on your marketing campaigns to watch leads slip away.
A good way to capture these leads is through a dedicated landing page that can steer your visitors to the buying journey you want them to take.
Regardless of your intentions, a good landing page focuses the needs of your website visitors with a simple call-to-action that makes it easier for them to convert.
Don't worry, you don't have to be a whizz at website design to make a good landing page. Keep it simple.
Your landing page should be as minimalistic as possible, your visitors only need the necessary information. Too much detail can be overwhelming!
Although the information that you do include needs to be eye-catching! Your leads don't have the time to be scanning the whole page for what they need.
Make sure you're guiding prospects down the sales funnel, not the other way around.
4. Keep it short
The top half of your web page needs to be leads orientated. If you don't catch them the minute they land on the page, they're not going to scroll down.
So naturally, you should fill the top of your pages with strong content information to catch your visitors attention.
The same goes for your calls-to-action. If they're too far down the page, they could get lost.
But that doesn't mean your website should be full of short, snappy content! Details are needed for your visitors to make an educated assumption about your product/ service.
Just keep the detail away from your headers! If your website visitors are interested and do continue scrolling around, you're onto a winner.
Videos and images are a good way to get the details across to your leads without reams and reams of text.
5. Ensure you're mobile friendly
Everything can be done through a mobile phone these days! So it's no surprise that a large chunk of your website traffic will come from mobile views.
Knowing how to make your website work for mobile devices will make all the difference.
If you need a hand, there's loads of IT gurus out there that can ensure your website is compatible with all mobile operating systems.
This is particularly important when it comes to your landing pages. They can be difficult to look at and fill out forms if they're not readily accessible for smaller screens.
Having a robust infrastructure will allow your website to work outside of a computer. This will mean that videos play well, your content reads easily and links work without breaking down. Hallelujah!
6. Chatbots are your friend
Sometimes when prospects are having pre-purchase jitters, they need someone to reach out to.
But we're all only human, and we can't always be accessible 24 hours a day. That's where a chatbot can come in!
Chatbots can be customised any which way you like, providing your website visitors with an opportunity to get whatever help/ advice they need.
As well as helping provide your prospects with crucial sales information, you can integrate with tools like CANDDi to capture a visitor's contact information.
This gives you the chance to reach out to them later, backed up with the information they've provided to the chatbot.
Similarly, you'll know exactly what they were interested in or worried about, so you can tailor your pitch accordingly.
Although chatbots aren't as useful as a real-life human, they're a great alternative when you need to respond quickly to visitor's needs. Especially if you're bombarded with a larger number of enquiries.
Ultimately, optimising your website is an easy way to obtain qualified leads. Having strong content and user-friendly pages across all platforms will continue to generate leads from your website visitors for a very long time.