30 years after the creation of the world wide web, it's safe to say, we've come a pretty long way.

It took only 3 years for the brainboxes behind it all to start logging our visits and making up metrics. In 1993, each time a certain HTML element was requested by a visitor, this became known as a "hit" and recorded into a log file.

In 1997, Javascript tagging became the new method of data collection. This is still the most widespread method of data collection today.

In just a few years, website visitor tracking was born, but how far have we come since?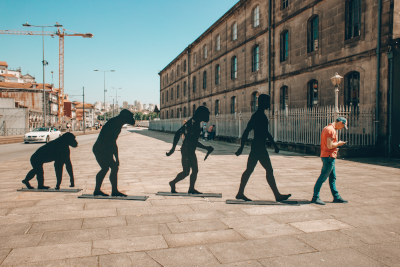 How it started
As we're all becoming more tech savvy, our data identification methods need to keep up. That's where CANDDi comes in.
Like most website tracking tools, we start by running an IP lookup to identify the workplace of an online visitor.
Every time your device connects to a website or another network, you need to exchange IP addresses. This ensures data can be properly sent and received between the two parties.
As a result, IP address trackers can collect the data they need and record any further movements. This is usually done by adding a tiny bit of JavaScript code onto a website.
The techy bit
This JavaScript gathers data for analytics as well as the IP address in question. Otherwise known as IP lookup.
Now the IP address has been identified, we can cross-reference them with other databases holding business information.
This allows us to extract business names and locations, which then leads to contact details, key employee information, etc.
So, if you want to know where your website visitors are coming from, this is a good place to start.
Taking it further
It's important to remember that IP addresses are either static or dynamic.
If it's static, it'll never change, but most devices have dynamic IP addresses. Ultimately, these ones change over time.
So what happens when your website visitors are working from home or checking their emails on holiday? Has all that prospecting gone out the window?
Not with CANDDi.
While many tracking tools have stuck with the classic IP lookup, CANDDi has adapted this and gave it an upgrade.
Whenever we identify a device, we'll drop a cookie onto their browser so they can be re-identified whenever they come back to your site.
We know that cookies get a bit of a bad rep, but we've only ever used first-party cookies. First-party cookies are set directly by CANDDi and only we can access them. They also enable much of the functionality you're used to when browsing the web.
How website tracking can help your salespeople
We're not saying that before website visitor tracking, good salespeople didn't exist, but we have to move with the times.
In a digital world where everything is accessible in the click of your fingers, you need to act fast! Sounds like a nightmare, doesn't it?
It doesn't need to be! Sales opportunities hide in your website traffic, and CANDDi can help you get to the forefront of all of them.
As mentioned, by running an IP lookup, you can identify the exact organization looking at your website. By discovering exactly who it is exploring your website, you've automatically got the chance to reach out to them directly. Goodbye cold calling!
Tools like CANDDi also work in real-time, providing automatic alerts so you can contact prospects at the right time.
We know how hard it is to keep a lead warm. So with emails when a new prospect has landed on your site, or a hot lead has come back for more, you'll never miss another opportunity!
CANDDi also lets you filter your website visitors with these things called 'streams'.
Streams allow you to set up parameters that tag visitors depending on industry, location or other defining features. This gives you a huge advantage over your competitors.
Mix that with some first-party cookies and you've got the perfect website tracking tool.
Why? Well, when you know what you're talking about, your team can nurture leads more effectively through the pipeline.
The beauty of CANDDi is our ability to go with the flow. As one of the smaller players in the market, we're not afraid to stand out and try something new.
We're always working to integrate and adapt to all of our clients' needs, probably the reason we're still offering one of the most advanced tracking tools there is, 11 years down the line.