Looking for a track and trace that actually works?
It seems like we need visibility over most aspects of our life these days, and I'm not talking about an app that may or may not deliver positive results.

Now more than ever the importance of data has become increasingly apparent, so you need to bank on something you can rely on. Now, I can't talk for the health and safety of our nation, but I can talk business.

But what does this have to do with track and trace? Well, this is actually something CANDDi got the knack of way before the Tories thought it was a good idea, because when it comes to sales & marketing, seeing the bigger picture is crucial. If you're lacking visibility, marketing can feel like a waste of time.

That's where CANDDi comes in.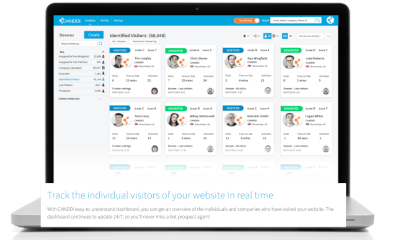 What do we mean by 'track and trace'?
CANDDi is a website visitor tracking solution that uses a unique mix of IP lookup, cookie tracking and algorithms designed in-house to drill down into who exactly is looking at your website. In doing so, we add a tiny bit of Javascript into the header/ footer of your website and voila, you're good to go.
But what does this even mean? It means that when a visitor arrives on your website, CANDDi will start to run a query to identify the registered owner of the IP address. This would be known as the 'tracking' part. This of course is only an approximation, but luckily you can 'train' CANDDi to do better and improve relevance for your organisation.
We also use two first-party cookies to associate the website activity from the visitors identified with device linking sessions and visits. This means you'll be able to know when someone keeps returning to your site, what pages they go to, how long they spend there, and any other clicks they might make. This is therefore the 'trace'.
Why would you bother?
If you think about it, how much time do you waste qualifying, chasing and pinning down your leads? It's a lot. CANDDi is an automated lead generation tool that drives the information gained from your website, straight to your CRM and inbox.
There's no point in working hard to drive visitors to your website if you're going to lose them in a marketing black hole once they land, so let CANDDi take over. Our aim is that within your first 3 months, CANDDi should be identifying between 15-20% of the visitors to your site. We can't deliver that by sitting around doing nothing can we?
So, how do we do it?
We identify the following
It's not magic, but it nearly is. We can't just pull data out of thin air because for one, we're not Harry Potter and secondly, that's morally wrong. Everything we do is fully GDPR compliant.
Here's how we go about it:
Placing enquiry forms on your website (including name, email and contact number) which will get pulled directly through to your dashboard. This is perfect if you're concerned about opt-in data.
Our CANDDi Capture feature is a 'pop up' that when filled in, a notification can be sent out in real-time straight to you. Again, this is opt-in data that CANDDi tracks.
Using tools like Mailchimp? Your email campaigns can also be tracked to the individual.
Or if you do more 1-2-1 emailing, our CANDDi plugin works within your email signatures on your Outlook/Gmail so you know when the recipient of a 1-2-1 email chain has opened your message or any links it contains.
Oh, and did I mention that all of this data is collected in real-time and delivered straight to your inbox? With our reporting capabilities, you can set up your own bespoke alerts that allow you to never miss your perfect customer again. We'll also send you nightly summaries of everything that's happened on your website that day.
Now there's some track and trace notifications we can all get onboard with…
If this sounds like the kind of data you want to get your hands on, why not try us for free for one whole month? You can register here.