When you've got CANDDi, there's no such thing as a dead lead
As a member of CANDDi's sales team, I use our own software every day, and I can vouch for its effectiveness!

But our software still manages to surprise me even after years of experience in the job. This blog post is about one such occurrence, when CANDDi helped to close a deal after I had presumed it dead in the water...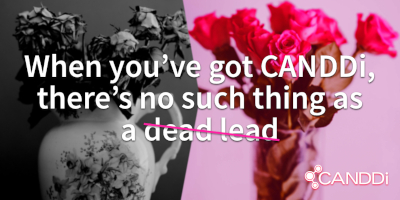 CANDDi day-to-day
To be frank, I would hate my job without CANDDi. I'm biased, of course, since I wouldn't have a job without CANDDi, but being a salesperson without the prospect tracking and identification of our software would be a thoroughly frustrating experience.
For example, so many of my sales pitches over the phone end in the prospect saying "okay! Send me an email". For those not in sales, this is a curious little phrase that can mean two things: either "okay! Send me an email", or "please leave me alone and never speak to me again".
That's where CANDDi comes in. I can track this email to see whether the person opens it and clicks through to the site. If they do decide to browse a few of our pages, I know they're interested and I can get in touch to book a demo.
If they open the email but don't click through to the site, it could mean the lead has gone cold. However, it could also mean they're just too busy right now. Since CANDDi already has the prospect identified, I can simply sit back and wait to see if they visit the site later to determine which of these is the case.
If a prospect doesn't open the email at all, well, it doesn't take a sales genius to figure out their level of interest. In these cases, I can save valuable time (for both of us!) by not bothering them again.
The story
Back in May, I spoke on the phone with Sam Jarrett, Sales Director of Norwest Digital. Since he works in an industry in which timing is everything, CANDDi's real-time prospect alerts and accurate visitor identification made us a good fit.
We arranged a demo for the following week, but when it came to it, he was occupied with other work. We rescheduled a few times, but each time yielded the same result. Eventually, Sam's gatekeeper informed me that the company was entering a busy period, effectively cancelling the demo.
Interactions like that usually are usually a death sentence for leads, so I filed it away and moved on.
Five months later, I received an alert through CANDDi. I have a stream set up for prospects I've already spoken to, and it showed me that Sam had visited the website again.
I called him up, and he asked me to remind him of what we did once again, since he remembered that he was interested. After this explanation, without needing another demo, Sam signed up for our software there and then.
Now, the reason things went down so smoothly here is because of timing. He had hired two new salespeople since our first call, and needed to give them some leads. Despite the fact that he was once again interested, though, it was my ability to offer a timely personal intervention that really closed the deal.
Closing thoughts
While the sale with Norwest Digital makes for a more dramatic narrative than the average, it follows the wider pattern of success that CANDDi makes so simple: finding out who is interested, viewing what they're interested in, and being alerted of when this interest is at its peak so you can get in contact when it matters most.
Plus, it's always nice to be reminded that the product you're selling is actually as good as you spend all day saying it is.
Do you use your own product in your day-to-day activities? Got any interesting success stories of it in action? We'd love to hear from you - get in touch!