5 Ways To Improve Your Landing Page And Convert More Leads
A landing page is an online store window for your business. It's the centre of all your inbound lead generation efforts, and a link back to every campaign you are running.

Companies invest a lot of time and money in driving business to their landing pages through PPC campaigns, social ads, and email offers. Yet they often neglect to keep their landing pages fresh and relevant.

This could be the reason for high bounce rates. How many times have you clicked through an ad specific to your needs and found yourself on a page that has no relevance to the link or ad? And what do you do next? You leave.

By spending time designing appropriate landing pages, tracking results and consistently conducting tests along the way, companies can create a more positive user experience AND convert targeted traffic into qualified leads.

Here are five easy tips that you can use to start converting more of your leads: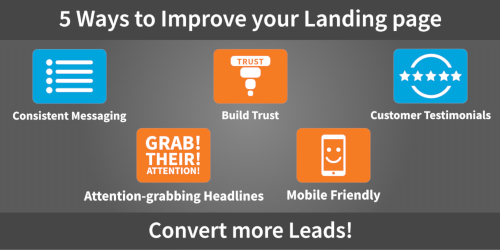 1. Consistent messaging
Make sure there is consistent messaging throughout the click-through process. The same call-to-action should be present from your ad campaign to your landing page. The visitor wants to know what they will receive when they take the action you are pushing them towards.
For example, if your aim is to capture their data by using a downloadable PDF document as bait, then make it clear – if they fill out their details, they will receive this PDF. This builds trust between you and your customer, and from the beginning of the process they understand what you are asking them to do. No hidden, nasty surprises.
2. Build trust
Talking of trust, often people you attract to your site via ad campaigns are unfamiliar with your organisation, but have been captured by your content. Be sure to include any recognisable awards, certifications or associated partners clearly on your landing page to help reassure visitors of your credibility.
3. Customer testimonials
Another way of getting across your company's achievements and successes is to highlight current customers' testimonials about your product. For more info on why this is important, check out Customer Testimonials- Important For Your Business?
4. Attention-grabbing headlines
Writing click-worthy titles is important for capturing early interest and engaging visitors, encouraging them to continue reading and learn more. Just like newspapers and magazines, the headline needs to be relevant, and a teaser for what the content is going to include. It should be descriptive enough that the viewer will understand that it is relevant to them but still a intriguing enough that they can't help wanting to know more.
5. Mobile friendly
Mobile devices now represent more than half of all web traffic, so businesses can no longer ignore the importance of designing mobile-friendly landing pages. That might sound obvious, but a surprising number of businesses neglect to make their user experience in mobile browsers equal to the experience in desktop browsers.