The CANDDi App (Built for Sales-people)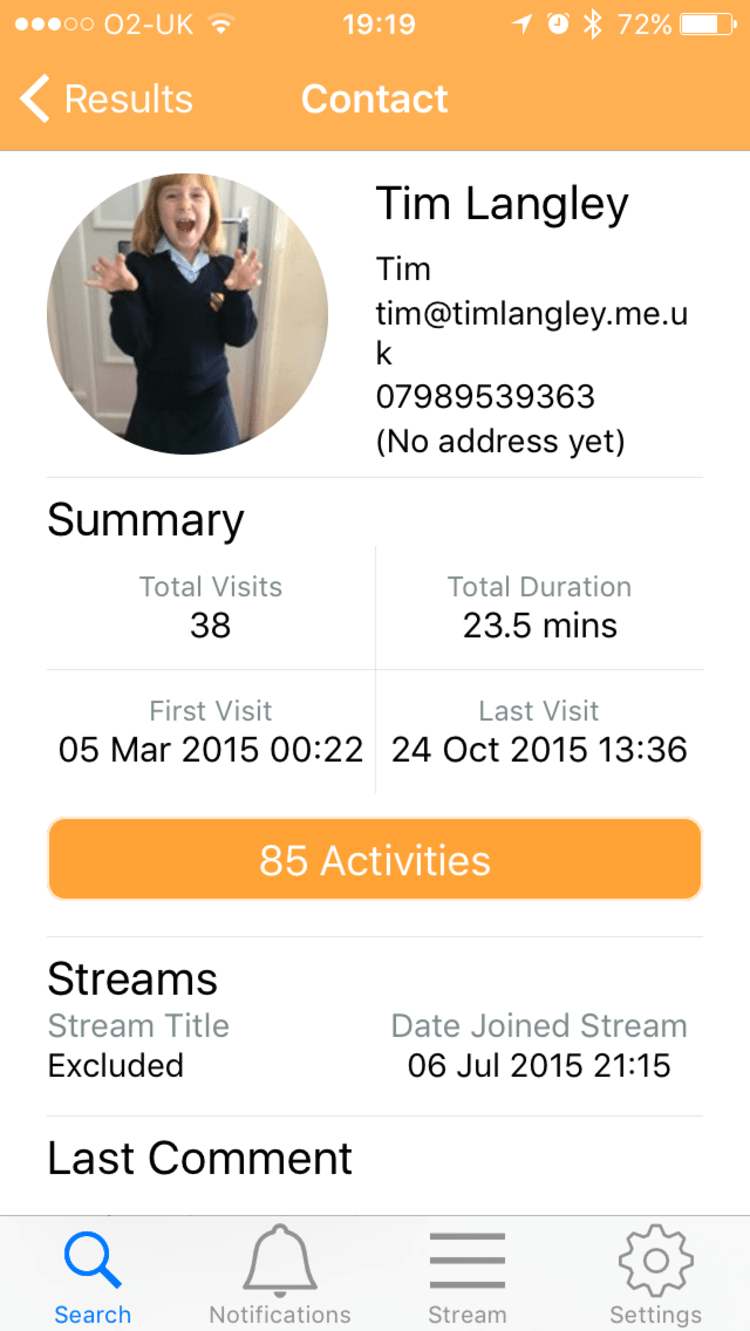 After listening to client feedback, the CANDDi App has been designed specifically with Field-sales teams in mind.
One of the most frequent requests that we've had about CANDDi is "can you make it easier to use on mobiles". We looked at making our existing dashboard more responsive so that it would display better - however when we started to speak to clients it turned out that the Use-case for the Dashboard and the Mobile App were completely different.
The Mobile App has been built from the ground up for Field sales people: Real-time notifications when Prospects are on your site, Super easy to find Prospects and to see the key information.
# Downloading and Installing The CANDDi iOS App is currently available in the Apple App Store. Click here or search for CANDDi in the App Store to download and install on your Apple device. This will work on all iOS devices (Mobiles and Tablets) running iOS 9.0 or above.
If you run an earlier version of iOS then please let us know and if there's enough demand then we'll look to back port.
The CANDDi Android App is available in the Google Play store. Click here
# How to use the App
Login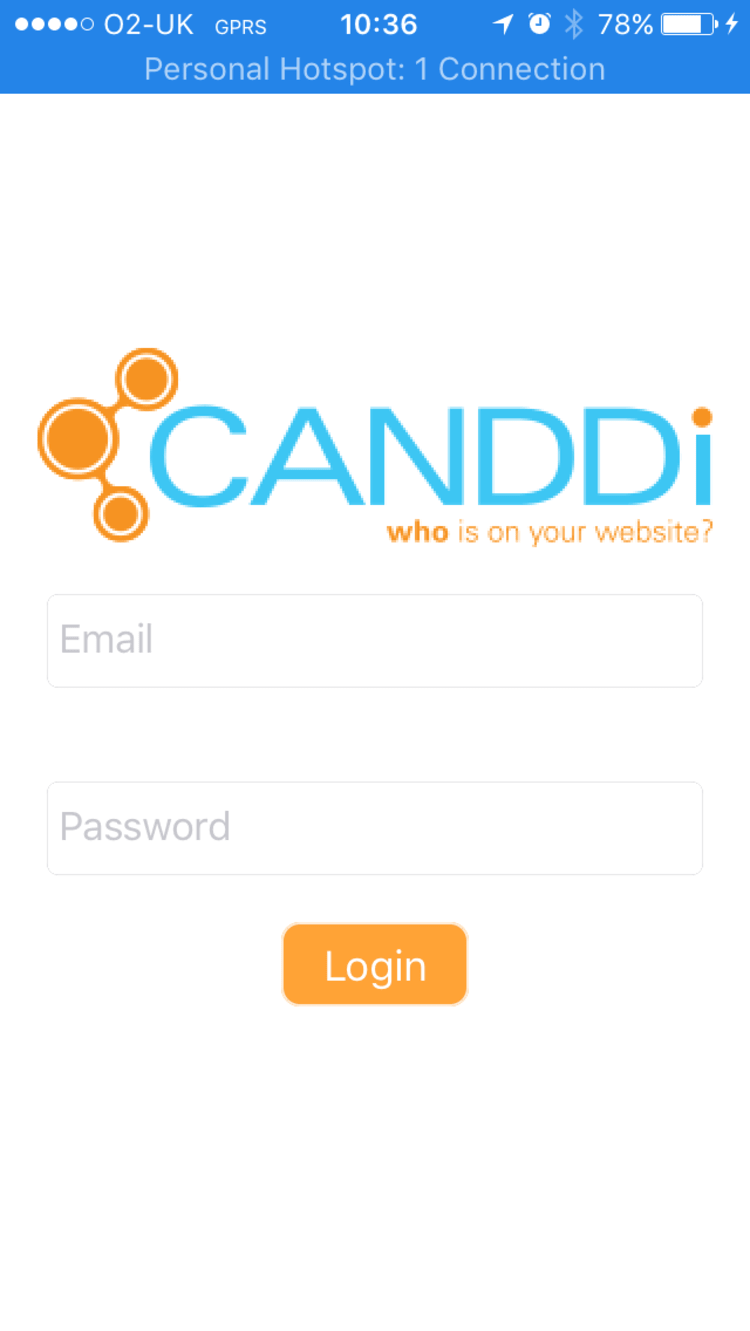 After installing the App then click on the CANDDi icon and enter your Email Address and Password into the window. These are the same details which you use to login to CANDDi
Once logged in then there are three different ways to find the Prospect you're looking for
Search for Prospects
Recent Notifications
Stream results
1. Search for Prospects
The CANDDi App supports searching on the Email Address or the Company Name
2. Recent Notifications
This holds a list of the last 10 Notifications (Emails, App Alerts, etc…) which have been sent to you
3. Stream results
This displays your most valuable stream of prospects. By default this is the Stream of Prospects who are Assigned to you - however you can change this in the Settings panel.
The Prospect View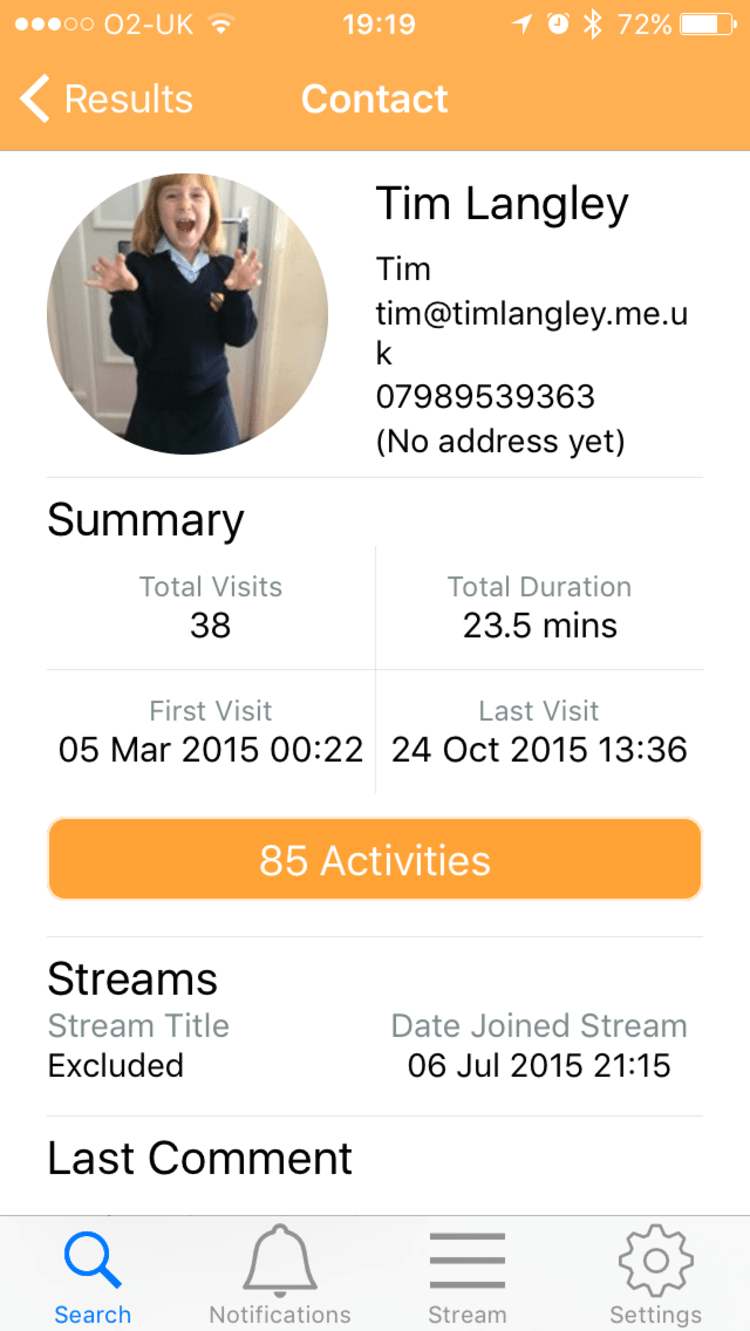 Once you've selected a Prospect then CANDDi will show you the same level of detail within the App as you can see in the CANDDi Dashboard. This includes: contact information, social data, website activity data. You can also forward the profile, leave comments or assign the visitor to another CANDDi user.
# How to configure triggers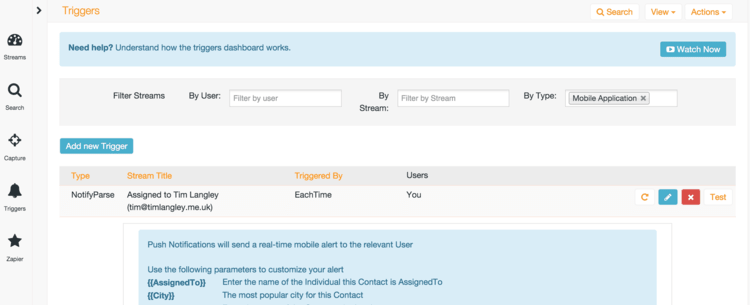 The real power of the CANDDi App is getting real-time notifications when a Prospect is engaging with your website. The App does this using "standard" CANDDi terminology of Streams and Triggers. Within the CANDDi Dashboard you (or your CANDDi Administrator) can create streams for "interesting activity" (for example a stream for everyone who has looked at 5 products). Triggers can then be added to the Stream so that a real-time notification will be pushed to your phone.
Mobile App triggers can be configured using the regular Triggers dashboard
# Future development This is just the first version of the CANDDi App - we've got lots of ideas for how this can be improved. Including:
The ability to send tracked emails from the App
The ability to set Geo-fenced alerts - for example alerting when you're "near" a prospect
The ability to synch Prospect data with your Phone book
The ability to edit / update information within the App
We'd love to hear your feedback and other features you'd appreciate
Yours
Tim