Canddi Went To SAScon Beta 2014
Myself and @Saadia_Choudry attended the SASCon Beta conference yesterday… I thought I'd do a quick blog post to share the Manchester SEO love.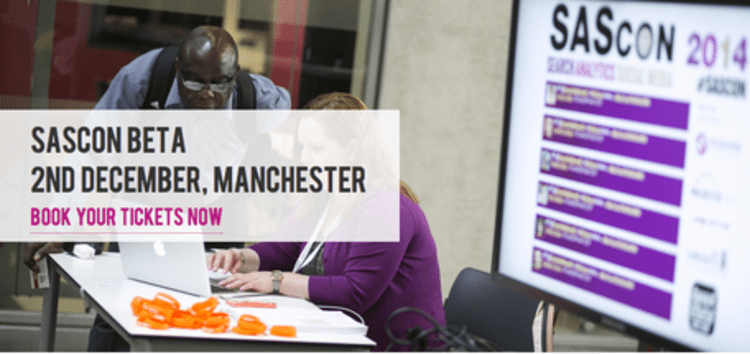 As a 10+year SEO veteran I've had the pleasure of attending quite a few SEO & Social events over the years…
however It's probably a couple of years since I've done the SAScon thing and it was great to catch-up with old friends and meet some new ones.
There was a great speaker lineup and all the presentations I managed to attend were excellent. My favorites on the day were… Jeff Coghnan from Matmi, James Murray from Microsoft, Barry Adams from Polemic Digital, Laura Thomas from Return on Digital and of course the very entertaining Dom Hodgson.
I've seen Jeff present a few times before; he brought his usual charm & quirkiness to the stage. Jeffs opening keynote covered a host of different topics, from technology innovation, the internet of things, robots and the wonderful world of Matmi games… which by the way included my personal favorite 'Ho Ho Ho, Yellow Snow'. Jeffs passion for creative technology is infectious and it's hard not to enjoy his presentations.
James Murray from Microsoft gave a fantastic presentation and reminded the audience that whilst Bing is behind Google in terms of popularity.. it isn't in fact dead and actually doing some very cool innovative stuff with search. James demoed the new Cortanta search tool on Microsoft Mobile platform.. there was a few teething problems as you would expect from a live demo and the blue screen heckles started to ring out from the comedy store crowd… however the Cortana stuff looked very cool and worth keeping an eye on in 2015.
Barry Adams presentation "Silicon Prison – How Technology Is Building A Sanitised Society". Barry talked about wearable technology, the future of personal data mining, neuromarketing and subliminal messaging (puts tinfoil hat on). Barry shared is passion for beer & Holland via subliminal messaging in his deck.. he was later seen at the bar with a queue of people buying him beer… great job Barry.
From a personal perspective, the event really did over deliver on my expectations… It's no secret that I haven't taken much away from other SEO conferences… however SAScon really has grown up over the last few years and has now become a must attend conference for anyone who works in Digital.
Big thanks to SAScon and the comedy store peeps for a great day.
Did you attend? We'd love to know your thoughts
Steve Wrigley