Three Tips To Optimise Your PPC Campaign
With over 80% of users not recognising Google Adwords as adverts, it's time to invest some time and thought into building a strong PPC campaign. Read more to find our CANDDi's top tips.

A recent study uncovered that 36% of people still don't recognise that Google Adwords are ads. When tested, some users were unable to identify Google Ads as adverts. Even more surprising is that 21% of users were not aware that Google even used advertising. Despite Google adjusting their layout to comply with the EU anti-trust measures and highlighting the Ad with a large yellow box, the Adwords are still convincing users they are clicking on an organic lead and leading at least 80% of users to click on PPC ads over the original link.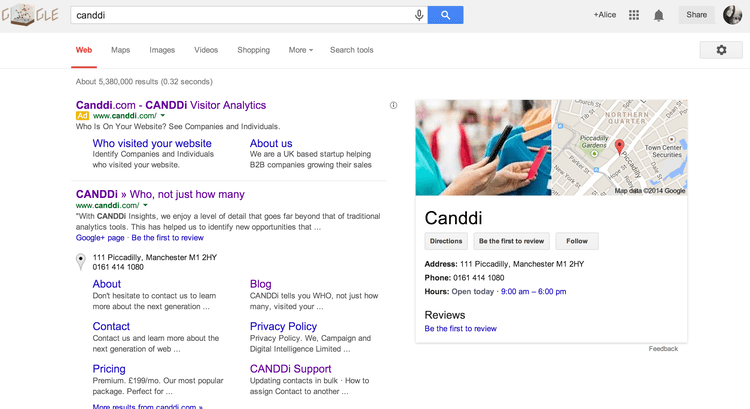 Google complying with EU anti-trust measures and highlighting the Ad.

####But How Does This Effect Your Marketing Strategy?

Businesses will be looking at this research and working how best to manipulate this data. We know that PPC (Pay-Per-Click) advertising is an effective way of driving traffic to your website but with the knowledge that a third of users unknowingly click on ads and just assume this is the best match, it is important for companies to treat PPC ads as a very effective 'shop window'. A lot of money is spent on Google Adwords, but are you really spending enough time using this form of advertising to your best advantage or missing out on simple advantages?

####Here are 3 top tips to improve your Pay-Per-Click Advertising:
####1. Track your results. One of the biggest blunders business owners make is to just regard PPC as another marketing job they can write and tick off their list. From the research above, it is clear that customers respond extremely well to google adwords, Econsultancy reported that 40% of individuals tested did not know that Adwords were paid-for adverts, instead believing them to be the most authoritative links. With this in mind, CANDDi can help track your progress by telling you who is visiting your website through PPC, what went well, what not so well and adjust accordingly. This can be titles, content, language. Small changes over time will provide overall improvements and convert quality scores. ####2. Back up with a strong landing page To ensure pole position on the google charts and create a high quality rate, it is important to keep your campaign relevant, your ad copy concise inclusive of keywords and a clear landing page that is user friendly. To increase your quality score through google, provide content that will engage the user and increase time spent on page. Use CANDDi to look at bounce rate, identify why the customer didn't hang around and enhance the content to increase time spent on page. CANDDi can help make your site more interactive, using popup forms and surveys that allow you to engage with your customer base. The more time the customer is engaged, the more likely the lead will be converted. ####3. Dont forget about SEO By combining PPC With Organic Search Marketing, companies provide a stronger brand presence and can result in dominance of the top Google search results. Customers will identify your company as an industry leader resulting in a greater confidence in the link. When PPC and SEO is combined, it ensures that coverage is taken over both paid ads and organic results that will lead to increase traffic. Remember, the aim of PPC and SEO is to drive quality traffic to your site. By combining this with CANDDi tools, business owners are able to convert these leads into sales.

Let us know what your thoughts are on PPC advertising and if this was any help?